Molecular Genetics
Nucleosomes
Structures consisting of DNA wrapped around an octamer of histones are called nucleosomes and are a fundamental unit of chromatin structure.
Facts
About 1/2 of the nuclear protein consists of highly basic proteins called histones. There are 5 principal kinds: H1, H2A, H2B, H3 and H4.
Olins and Olins (ref) observed 10 nm beads on strings in chromatin spread on electron microscope grids.
Hewish and Burgoyne (ref) treated chromatin with nucleases, extracted DNA, and observed its size distribution. The pattern found is shown at left (left lane short digestion times; right lane, long digestion times).
The spacing between DNA bands in the ladder shown can vary from about 0.17 to 0.25 kbp among organisms and among tissues.
The nuclease-treated chromatin (before DNA extraction) was fractionated by size. One fraction contained the 146 bp DNA. It also contained two each of H2a, H2b, H3, and H4 histones per DNA fragment.

The circular double-stranded DNA of some viruses exists in nuclei as minichromosomes. The tracing length of the circle is about 7.5 fold less than that of the DNA extracted from these minichromosomes. (image from http://img.tfd.com/mgh/ceb/thumb/Electron-micrograph-of-the-minichromosome-of-a-virus-that-infects.jpg)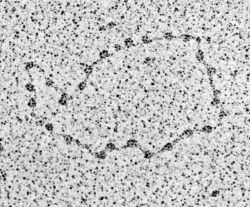 Interpretations
DNA exists in cells as a complex with proteins.
At the first level of structure, eight histone molecules are clustered on 146 bp of DNA. These clusters, called nucleosomes, are separated from one another by 20 to 100 bp (depending on cell type, organism and physiological status) of spacer DNA.
The folding of DNA in nucleosomes results in a compaction factor of about 7 5. Higher levels of chromatin structure involve histone H1 and non-histone chromosomal proteins.
Further information
Extensive characterization of nucleosomes by neutron diffraction, crystallization, X-ray diffraction, protein crosslinking, immuno electron microscopy and other techniques revealed further properties.

The DNA is wrapped left-handed around a 3.2 nm radius core of histones;
There are 1.8 turns of DNA per nucleosome.
DNase nicking of nucleosomes shows an average periodicity of 10.7 bp in center; 10.0 near ends.
The DNA is kinked; kinks are found at +/- 1 and +/- 4.
Alpha helical regions of histones have basic residues that contact the major groove of the DNA.

The continous length and the large size of chromosomal DNA's are inconsistent with the observed size of morphological chromosomes. Resolution of the inconsistency requires packaging of the DNA in more compact structures.
Biochemical studies have identified a DNA-protein complex, the nucleosome core particle (NCP), representing the first level of packaging. They also identify how the NCP's are distributed along the DNA.
The NCP's provide a link between biochemical (submicroscopic) structure and structures (Juha Ruokolainen) observed by electron microscopy. Biochemical and ultrastructural information have been combined in models of 10 nm diameter nucleosomal fibers and 30 nm supernucleosomal fibers. Nucleosome structure and dynamics is an area of active current research.
Last | Vocabulary | Overview | Top | Next


---
This is page 11226 of Molecular Genetics by Ulrich Melcher, © 1997, 1998, 1999, 2003, 2009

---
E-mail inquiries to U. Melcher------------Last Updated: 25 August, 2014